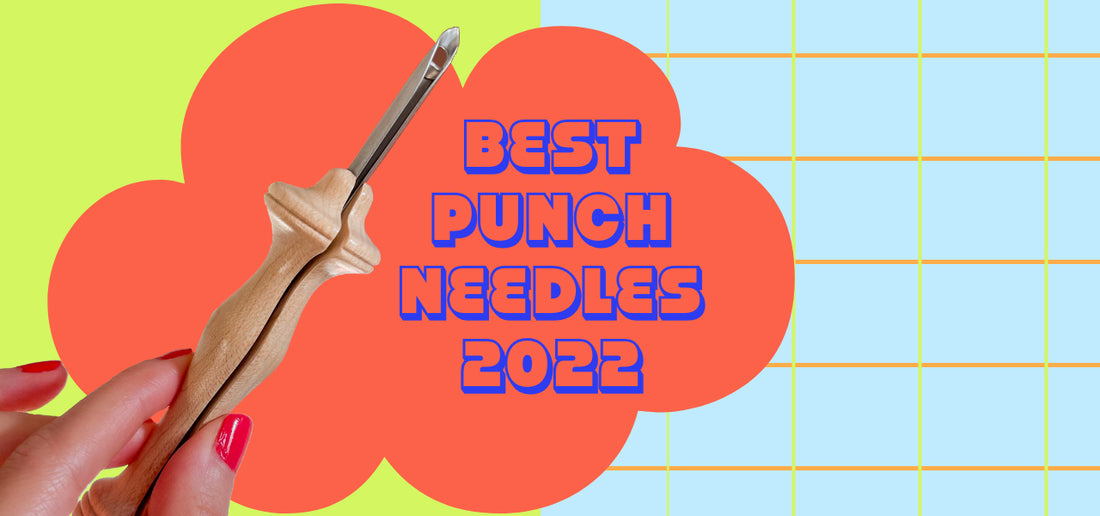 Editor's Note: We independently review everything we recommend. When you buy through our links, we may earn a commission – at no extra cost for you.
As an easy to learn and quickly gratifying craft, punch needle has made a roaring comeback. A punch needle is a handheld tool that pushes yarn through a backing fabric and when pulled back up creates a loop on the back. It is a simple tool through which many objects can be made–from rugs, pillows, and art, to anything else one can create with fibers. All punch needles essentially use the same mechanism, but they vary in size, length of loops created, adjustability, and types of compatible yarn. Browse our favorite punch needles below:


Best Adjustable Punch Needle
Lion Brand Adjustable Punch Needle

This is by far my favorite punch needle. It's inexpensive, easy to use, and doesn't hurt my hand.
Though plastic punch needles sometimes get a bad rap, the Lion Brand adjustable punch needle is actually my favorite of all punch needles. Its slimmer body is more comfortable for my hand and the ability to create varying pile heights is much more efficient than constantly having to switch tools. 
Pros:
Can create multiple pile heights
Affordable
Sharp point
The needle itself features an enclosed tube where the yarn is thread and thus a threader is required. While some may find this inconvenient, this is a plus for me because I find it to be better at keeping the yarn in place and unwinding properly. In my experience, yarn tends to fall out with open tube styles, which ends up extending the process of threading and re-threading.
Cons:
Every so often the needle might spring all the way back and you have to reselect your pile height. This has never caused damage on my pieces.

Best Wooden Punch Needle
Amy Oxford Punch Needle

High quality reliable needles made by rug hooker Amy Oxford 
A well-known brand for most punch needle artists, the Oxford line of punch needles is high quality and highly reliable. The tool was designed by rug hooker Amy Oxford who has been making rugs since the 1980s.  
Pros:
Sturdy material, made of maple
Sharp point
Ergonomic grip (I don't personally don't find this style grip to be very comfortable)
Kits available
Lifetime guarantee
Cons:
Separate needle required for every pile height so the costs can add up quickly
If you are like me, the body is not very comfortable to grip

Best Punch Needle For Large Pieces
Danella Rug Hooking Tool

A tool at least 10 times faster than the traditional punch needles
Originally referred to as the Aladdin Carpet Needle, the Danella Hooking Tool is at least 10 times faster than the traditional punch needle tools, producing about 200 loops per minute. The mechanism to create loops is the same as with the punch needle, but instead of pushing down and forward with your hand, you rotate a lever and the tool pushes through the foundation fabric and moves forward on its own as loops are made.
Pros:
Can make three different pile heights
Great for large sections
No batteries or electricity required
Easily portable
Cons:
The tool can only be used with certain types of yarn
Costly

Best Punch Needle for Hand Embroidery
Ambroidering Embroidery Punch Needle

A great way to make satin stitch hand embroidered pieces at a faster pace
Designed for use with embroidery thread, this tool is a great way to make satin stitch hand embroidered pieces at a faster pace. The needles range from sizes 9 to 16 and can be used with varying thicknesses of thread. Size 9 is perfect for using a single strand of embroidery thread and size 16 is perfect for using with 6 strand embroidery thread.  
Pros:
Make satin stitch embroidery art in a fraction of the time
Comes with various needle sizes and a threader
Cons:
Loops need to be held in the back so you have to be careful not to prick yourself
The needles are quite small so if you have larger fingers it may be difficult to use