Creating a Unique Space: Our Top Picks for Eclectic Home Decor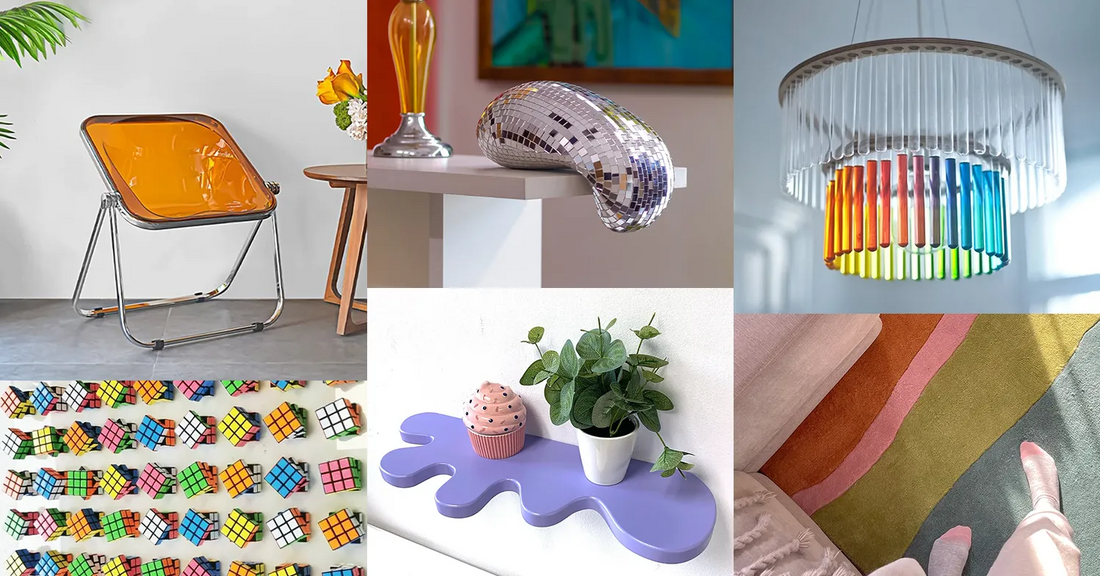 Editor's Note: We independently review everything we recommend. When you buy through our links, we may earn a commission – at no extra cost for you.
When it comes to eclectic home decor, the options are endless. Whether you're looking to completely transform your space or just add a few unique touches, here are some products to consider:
Eclectic Rugs
Okay, we admit it - we're a little biased when it comes to funky rug designs. But can you blame us? We've spent countless hours curating and hand-crafting a collection of eclectic and eye-catching rugs that we just can't get enough of. With bold geometric patterns, our rugs are sure to make a statement in any space.
Whether tufted, kilim, vintage, or modern, rugs are a great way to add texture, color, and pattern to a room.So, without further ado, let's dive into our top picks for adding a touch of eclectic charm to your home with our funky rug designs and our favorites from other rug makers.
Our best-selling rug features a unique retro-futuristic pattern that guides your eyes continuously around the rug to find something new.
Elevate your home decor with this eye-catching round tufted rug inspired by the space age retro-futuristic design. With a color palette of purples, blues, hot pink, and tan, this rug is designed in Brooklyn and handmade by artisans in India using 100% New Zealand wool. Available in various sizes, this rug is a perfect statement piece to add a touch of fun and excitement to any room.
Inspired by a walk on the beach where sand and water meet, this rug features a beautiful teal base with three large stripes.
Step into the tranquility of the ocean with our Stitched and Striped Tufted Rug. Designed in Brooklyn and handmade in India with 100% New Zealand wool, this rug is both stylish and sustainable. Soft and cozy underfoot, it's perfect for adding warmth to any space, whether it's a beach house or a city apartment.
Wool Beni Oren Moroccan Rug with a modern, eclectic aesthetic
This rug is a beautiful piece of art that combines traditional craftsmanship with a modern, eclectic aesthetic. Hand-tufted from wool, this rug features a white base with a colorful checker design that adds a vibrant pop of color to any space. The geometric shapes and patterns are a classic element of Moroccan design, and the intricate detail of the tufting makes this rug a true work of art. Perfect for adding texture and warmth to a living room or bedroom, this rug is sure to make a statement in any home with its bold and unique design
A bold and vibrant rug that will instantly make a statement
This beautiful Moroccan rug will add a touch of elegance and charm to any room in your home. The white base and bold blue squiggle design pattern create a striking contrast that will capture your attention and leave a lasting impression. The rug is made from 100% natural sheep wool, which not only makes it soft and plush to walk on but also provides insulation and keeps your feet warm on cold days. The rug is handcrafted by skilled artisans in Morocco using traditional techniques, ensuring that each piece is unique and of the highest quality. Its luxurious texture and intricate design make it an excellent choice for adding texture and warmth to your living room, bedroom, or even your home office.
Wall Art
From gallery walls to statement pieces, wall art is an important part of eclectic home decor. Whether you're a fan of bold, vibrant colors or more understated pieces, there's something for everyone. Consider oversized colorful paintings to make a statement, vintage posters for a touch of nostalgia, or bold abstract prints for a contemporary feel. Textile art or tapestries can add texture and warmth to any space, while fun and unexpected wall sculptures offer a touch of whimsy. Don't forget about framed vintage maps or botanical prints for a classic touch. Whatever your style, wall art is a great way to express yourself and make your home truly unique. Let's take a look at some of our favorite wall art:
Quirky resin pop tart art
This handmade resin pop tart wall art is a perfect addition to any room that needs a touch of fun and quirkiness. The resin coating gives the piece a glossy and smooth finish, making the colors pop and adding depth to the 3-dimensional sprinkles. The size of the pop tart wall art is just right, not too big or too small, making it a versatile piece that can fit in any space. The attention to detail in the sprinkles and frosting adds to the realism of the piece, making it look good enough to eat! Hang it on a plain wall to make it a statement piece or incorporate it into a gallery wall for an eclectic touch.
Modern yet nostalgic interactive wall sculpture
This unique wall art is a guaranteed conversation starter. Made with real Rubik's Cubes, this piece of art is perfect for puzzle lovers, game enthusiasts, and anyone who loves funky decor. Hang it on your wall and watch as your guests try to solve the puzzle. And this piece can even be custom ordered in different sizes and colors.
Unique art print selected by Etsy's style and trend editors
This colorful and funny fine art print is a high-quality piece that is perfect for any home or office. Printed on archival 300 gm museum quality paper, this print is guaranteed to last for a long time without any fading or degradation. Each piece is signed, titled, and dated, making it a unique and valuable addition to your collection. The vibrant colors and humorous design make this print a standout piece that will add personality and charm to any room. Hang it in your living room, bedroom, or office for a pop of color and whimsy. Whether you're a collector or just looking for a fun and unique piece of art, this colorful print is sure to impress.
Our best-selling funky, abstract art print
Transform your space with our bold abstract geometric art print that will instantly brighten up any room! With a vibrant color palette inspired by the beautiful and colorful landscapes of a tropical island, featuring hints of blue, pink, purple, green, yellow, and tan, this print is a stunning addition to any space. The funky and eclectic style is designed in Brooklyn and printed in Los Angeles using high-quality giclee printing technique on 240 gsm fine art paper,
Lighting
Eclectic lighting fixtures can add a touch of whimsy to your space. Vintage or antique chandeliers can add a touch of glamor and elegance to any room, and they're also a great way to show off a unique vintage find. Mid-century modern table lamps are perfect for those who love retro design, and they can also add a pop of color to any space. If you're looking for something more modern, industrial-style pendant lights are a great option that can highlight architectural features and add a raw, edgy feel. For a warm and bohemian touch, consider Moroccan-inspired lanterns - perfect for creating a cozy and intimate atmosphere. With so many options to choose from, eclectic lighting fixtures can be a fun and easy way to add some personality and style to your home. Let's dive into some of our favorite lighting options:
Create a warm ambience in your room with this unique, organic shaped lamp
The funky, squiggly tabletop lamps from the Wooj studio in Brooklyn are not just stylish but also environmentally friendly. Made of heat-resistant corn-based plastic, these lamps are perfect for anyone looking for a sustainable lighting option. They are designed using the latest 3D printing technology and assembled to order, ensuring each piece is made with care and attention to detail. The unique shape of these lamps will add a fun and whimsical touch to any space. Whether you're looking to add some personality to your home office, bedroom, or living room, these tabletop lamps are the perfect choice.
Innovative chandelier made from laboratory test tubes set in plywood bands
Meet the Maria S.C. Chandelier - a lamp made from laboratory test tubes set in two plywood bands, offering a perfect blend of classic and innovative design. Inspired by the renowned Polish scientist, Maria Sklodowska-Curie, this unique lamp features a double glass cylinder that evokes the Art Deco style, while the detachable tubes provide endless opportunities for visual experimentation and creative arrangements.
Fun and unique decorative lamp perfect for eclectic homes
This quirky banana lamp is the perfect addition to any room that needs a playful and lively touch. Available in sitting, standing, and laying styles, this lamp can fit seamlessly into any space. The warm and soft light it emits creates a cozy and inviting atmosphere. Its unique design is sure to grab the attention of anyone who enters the room, making it a fun conversation starter. It's a great way to add a touch of whimsy to any room, whether you're looking to create a tropical-themed bedroom, add some fun to a child's playroom, or simply want to inject some personality into your living space.
Unique piece crafted by artisans in Bali
The Budding Kiko lamp is a perfect addition to any home looking for a unique and eye-catching piece of decor. The use of palm leaf and Albesia wood in its construction gives it a natural and organic feel that can easily blend in with different home decor styles. The lamp's design is both modern and futuristic, with a captivating aesthetic that draws the eye towards it. The inward-curving leaves create a subtle and intriguing sense of movement, while the central sphere provides a warm and comforting light that radiates throughout the room. Whether you are looking for a lamp to add a touch of warmth to your bedroom, or a statement piece for your living room, the Budding Kiko lamp is a versatile and stunning choice. It's sure to be a conversation starter and add an elegant touch to any space.
Furniture
When it comes to eclectic furniture, there are endless possibilities to mix and match different styles and eras to create a unique and personalized look for your home. Vintage or antique pieces can add a touch of history and character, while mid-century modern sofas or chairs can bring a retro and modern vibe. Boho-style rattan furniture can create a relaxed and natural atmosphere, while industrial-style metal pieces can add a raw and modern touch. With eclectic furniture, there are no rules - just have fun and let your creativity run wild! Here are some of our favorite pieces of eclectic furniture:
Plush organic cloud couch with curved backrest
The cream Boucle Curved Cloud Couch is a stunning piece of furniture that adds a touch of elegance to any room. The couch's beautiful organic design features a plush look and feel, making it the perfect spot to relax and unwind after a long day. The ergonomic curved backrest provides excellent support and ensures that you are comfortable no matter what sitting position you prefer. The couch is framed in sturdy wood and filled with thick sponges, ensuring that it is both durable and comfortable. Best of all, there is no assembly required, so you can start enjoying your new couch right away. With its modern design and happy curved features, this couch is sure to become the centerpiece of your living space.
Hand-carved and finished with natural oil. Versatile design, perfect as accent or end table.
Indulge in the beauty and elegance of the hand-carved wave design of this stunning table, which will surely impress your guests. The exquisite design is carved with skilled craftsmanship that brings out the natural beauty of the wood, making each piece unique and individual. Measuring 20 inches high and 14 inches x12 inches in size, this table is a perfect choice for an accent or end table, adding a touch of sophistication to any room. The natural oil finish on the table enhances the natural texture and grain of the wood, making it stand out and catch the eye. Not only is it a functional piece of furniture, but it also doubles as a display stand for your favorite decor items, allowing you to showcase your personal style.
Translucent space age chair, elegant and affordable, chrome frame.
Bring a touch of retro-futuristic elegance to your home with this stunning translucent chair. Available in vibrant orange, green, classic white, and clear, this chair is a versatile addition to any modern space. Its sleek and innovative design is perfect for those who appreciate unique furniture pieces that blend the old with the new. Made from high-quality materials, the chair features a durable chrome metal frame that adds an element of sophistication to its overall appearance. Perfect for use in a dining room, home office, or even as an accent chair in a living room or bedroom, this chair is an affordable way to add a touch of high-end style to your home decor.
Versatile 3D printed pastel table corners
These custom CAZ 3D coffee table stands are not only stylish and elegant, but also eco-friendly. Made from biodegradable PLA plastic, they're a sustainable option for any living space. Their modern design adds a touch of sophistication to any room, and they can be combined with tabletops of various sizes to create a custom coffee table that perfectly fits your space. With their chunky and cute shape, they're a unique addition to your home decor that's both functional and visually appealing.
Textiles
Textiles can be a great way to add warmth, texture, and color to a room. Patterned throw pillows are an easy and versatile way to introduce pops of color and pattern, and can be switched out seasonally to keep your decor feeling fresh. Vintage or handmade quilts can add a cozy and nostalgic touch, and are a great way to add texture to a bed or sofa. Additionally, curtains or drapes can add softness and privacy to a room, while also providing an opportunity to introduce color or pattern. Let's take a look at some of our favorite eclectic textiles:
100% cotton woven throw blanket with a funky and original two-tone abstract design
This multi-purpose blanket is a statement piece that adds color and texture to any room. Made of high-quality materials, this blanket is soft and comfortable, perfect for snuggling up with on a chilly day. The blue and green color scheme is inspired by nature and brings a sense of calm and tranquility to your space. The unique design is eye-catching and adds visual interest to your decor. The fringe edges provide a bohemian touch and make this blanket perfect for use as a wall hanging or tapestry. Whether used as a cozy throw or a decorative accent, this blanket is a must-have for any eclectic home.
Handmade window treatments
These beautiful linen curtains are handcrafted with care and are available in a range of colors to suit any decor style. With options for different types of lining, these curtains can provide the perfect amount of light filtering and privacy. The natural texture and drape of the linen fabric adds a touch of elegance to any room. These curtains are not only functional, but also a stunning piece of decor that will enhance the overall look and feel of your home.
Handmade in New Jersey and dyed with floral botanicals
Sleeping on this divine natural silk pillowcase is like being enveloped in a luxurious dream world. Made from lustrous charmeuse silk, this pillowcase has a soft and silky texture that feels heavenly against your skin. It's not just its softness that makes it special, though - it's also beautifully hand-dyed using fresh floral botanicals. The delicate pink and purple hues of garden snapdragons and pink roses are splashed with bursts of blush, purple, and yellow, creating a breathtakingly beautiful design. Every pillowcase is unique, making it a special and one-of-a-kind addition to your bedding collection. Sleeping on this pillowcase is like drifting off to sleep on a cloud of pure luxury.
Handmade quilt with a beautiful sun design
This stunning sun design quilt will add a touch of warmth and character to any bedroom. The dye used to create the deep and rich color is pressed onto supple cotton using traditional wooden blocks, resulting in an exquisite and unique piece. The reversible design of the quilt allows you to switch up the look of your bedding whenever you desire, with a different pattern featured on each side. The combination of yellow and blue dye used in the sun design creates a beautiful and eclectic bohemian look that will add a pop of color and style to your bedroom décor.
Decorative Accents
When it comes to eclectic home decor, it's all about the details. Adding eclectic decorative accents is a great way to inject personality and style into any room. Statement mirrors with unique frames can serve as a stunning focal point, while quirky knick-knacks like vintage globes or unique sculptures can add a touch of fun and unexpectedness. By incorporating these details into your space, you can create a truly unique and personal home decor style that reflects your individual taste and personality. Here are some of our favorite fun and funky decorative accents:
Unique disco ball made in Ukraine will instantly brighten your space
The molten disco ball. A unique object of decor. Will fit in any interior. Whether you're looking to add some sparkle and shine to a living room or bedroom, or want to create a funky, artistic vibe in your office or studio, the Molten Disco Ball is the perfect choice.
Hand-painted with watercolors and coated in epoxy for a shiny, durable finish
Don't settle for boring key holders - add some personality to your space with our handmade blood orange slice key holder. It's not only functional, but also a beautiful and one-of-a-kind piece of art. Perfect for hanging keys, leashes, and other small items. Choose from lemon, lime, orange, blood orange, grapefruit, kiwi, dragonfruit, and watermelon.
Vintage inspired vase features a 3D rendition of a strawberry with textured detailing
This large ceramic vase shaped like a strawberry is a charming addition to any room. Its unique design is both playful and elegant, making it a versatile piece that can be used for a variety of purposes. Use it in your bathroom to store makeup brushes or toothbrushes, on your desk to organize pens and pencils, or as a decorative centerpiece on your kitchen table.
Funky floating shelf designed and made in Florida
The Lele floating shelf is not just a functional storage solution, but also a charming decorative piece that can bring a touch of joy and personality to any room. Handmade in Orlando, the shelf's unique design, with a curved base and a slightly tapered shape, gives it a playful and whimsical appearance, while the smooth finish and vibrant colors add a modern and stylish touch. Whether you need a small shelf for a compact space or a larger one to display your favorite items, the Lele floating shelf comes in a range of sizes and color options to suit your needs and preferences. Use it in your living room, bedroom, bathroom, or any other area of your home to showcase books, plants, photos, or other decorative objects.