20 Fun and Quirky Ornaments for Your Christmas Tree 2023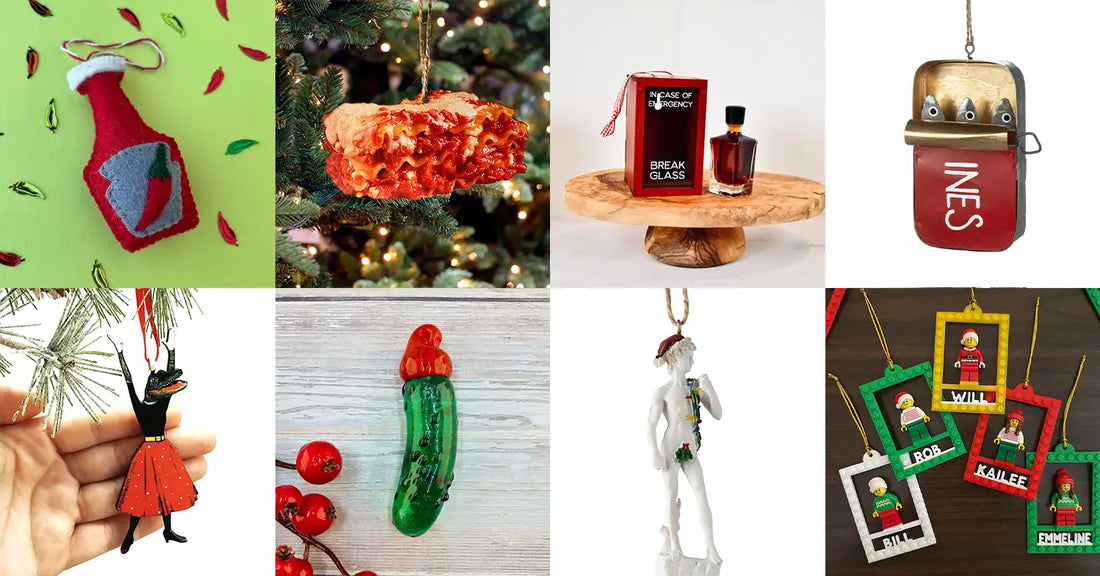 Editor's Note: We independently review everything we recommend. When you buy through our links, we may earn a commission – at no extra cost for you.
With the holiday season right around the corner, it's time to dust off the Christmas tree and get to decorating! But this year, why not add a whimsical twist to your traditional decor? We've curated a list of 20 fun and quirky ornaments that will add a splash of uniqueness to your festive fir. From unconventional designs to humorous characters, these ornaments are sure to spark conversations and light up faces.
A tasty lasagna ornament handmde in Philadelphia
Invite a slice of whimsy to your holiday decor with this unique lasagna ornament. Each piece is handcrafted and adorned with a vibrant lasagna image on birch plywood, bringing a playful nod to your tree. The flat ornament, laser-cut and bearing the quirky Jawnstown branding on the back, adds a dash of humor and a hearty serving of cheer to your Christmas celebrations.
A customized lego ornament with your name on it
Choose your frame color and outfit and get the cutest personal ornament. Handmade in the US, each ornament comes with a holiday themed minifigure, ready to hang on the Christmas tree! The perfect gift or stocking stuffer.
A unique, heartfelt homage to your furry friend.
Add a tender touch of purr-sonality to your tree with these customizable felt cat ornaments. Lovingly hand cut and sewn in a pet- and smoke-free home, these ornaments not only celebrate your feline companions but also add a cozy, handcrafted touch to your holiday festivities.
Unique hot sauce ornament to spice up your holiday decorations.
Add a spicy flair to your holiday decor with this delightful Hot Sauce Ornament. Handcrafted by skilled artisans in Nepal using vibrant sheep wool, these ornaments bring a unique blend of fun and tradition to your Christmas tree.
Elegant hand blown glass pickle ornament with a fun Santa hat.
This handmade ornament, crafted from handblown glass, depicts a whimsical pickle, encapsulating a quaint German tradition; on Christmas Eve, the ornament is hidden within the Christmas tree, bestowing good fortune or an extra gift to the fortunate discoverer come morning.
Unique ornament designed as a break glass in case of emergency holder. Perfect for a gift card or mini liquor bottle.
A super versatile ornament that can be used to present other gifts like money, gift cards, liquor bottles, etc. in a fun and unexpected way! This handmade ornament is made of painted wood. The 'glass' is a clear acrylic that slides up for easy access to whatever you put inside – no need to actually break glass.
Celebrate nostalgia with this SEGA Genesis console ornament featuring light and sound effects. Perfect for gamers and fans of the classic Sonic the Hedgehog series.
Take a nostalgic journey back to 16-bit gaming with this SEGA Genesis console Keepsake Christmas ornament, featuring a Sonic The Hedgehog game in its cartridge slot, complete with engaging light and sound effects. Slide the switch to watch it light up and play iconic game sounds.
Bring a touch of art and humor to your festive season with this funny take on Michelangelo's iconic Statue of David.
Add a humorous and artistic touch into your holiday decor with this whimsical 3 inch Statue of David Christmas ornament, featuring Michelangelo's masterpiece adorned with a festive hat, a bough of holly, and a string of vibrant Christmas lights. Crafted from polyresin, this intricately textured aornament can be showcased indoors or outdoors, adding a quirky, festive vibe whether hung on the tree or placed around the home.
Celebrate the legacy of Biggie Smalls with this handmade felt ornament, perfect for fans of the iconic rapper.
Celebrate your love for rap with this handmade Notorious BIG felt ornament, meticulously crafted by skilled artisans in Kyrgyzstan using eco-friendly materials.
Add a unique touch to your festive decorations with this quirky tin of sardines ornament.
Whether hung by its jute hanger or nestled amongst other quirky decor, the tin construction of this fun ornament, coupled with either a vibrant red or classic silver finish depending on the size, makes it a playful yet stylish addition to any nautical or eclectic decor ensemble.
Add a touch of Florida charm to your holiday decorations with this unique alligator lady ornament.
Unleash a touch of whimsical charm onto your holiday decor with this one-of-a-kind alligator lady ornament, crafted from laser cut wood.
Raise a toast to the holidays with this intricately designed Old Fashioned whiskey cocktail ornament.
Ideal for whiskey aficionados, this hand-blown and hand-painted ornament, nestled in a custom-made box adorned with a retro holiday design, makes a perfect gift to either self or others, bringing a sophisticated cocktail vibe to your holiday decor.
Capture the magic of winter with this intricately designed fused glass ornament featuring the Abominable Snowman.
This adorable fused glass Yeti ornament is meticulously crafted with hand-cut and shaped glass to create a whimsical character adorned with white glass "fur" around its face and belly.
Celebrate the festive season with this adorable mouse ornament, all decked out in a cozy Christmas sweater.
Delight in the festive spirit with this handcrafted felt mouse ornament, dressed in a charming green Christmas Snowman sweater, ready to add a playful touch to your holiday decor. It features bendable wire arms and tail, and comes with an attached hanger for easy display on your Christmas tree.
Add a touch of humor and nostalgia to your Christmas tree with this unique Cheese Balls Barrel glass ornament.
This high-quality glass tree decoration is designed to resemble your favorite jar of cheese balls complete with a glitter-sprinkled exterior, a blue lid, and a Cheese Puffs logo.
Add a touch of humor to your festive decorations with this iconic Homer Simpson meme ornament.
This Homer Simpson hiding in the bushes ornament is perfect for meme enthusiasts and those looking to bring joy and laughter to the festive season.
Indulge in the festive spirit with this delightful and realistic chocolate chip cookie ornament made from clay.
This Chocolate Chip Cookie Ornament is crafted from polymer clay to mimic a tempting chocolate chip cookie, complete with a gloss glaze to give it a fresh-baked appeal.
Unleash your creativity this festive season with a DIY ornament kit to make your own delightful pigs in blankets decoration.
Do some holiday crafting with this Make Your Own Pigs In Blankets Christmas Decoration kit, a comprehensive craft set that provides everything you need to create three adorable pigs in blankets ornaments using needle felting and crochet technique.
Brighten up your tree with this quirky fused glass chicken ornament. Handmade and full of character, it's sure to be a conversation starter!
This handmade ornament is crafted from hand-cut Bullseye glass, and hand-painted to bring out the quirky character of a whimsical chicken. A perfect addition of rustic and festive charm.
Celebrate the festive season with a sweet touch! This felt cannoli ornament is intricately crafted and perfect for pastry lovers.
Add a sweet slice of Italian delight with this felt Cannoli ornament, handcrafted to resemble the beloved pastry. This lightweight ornament is designed with an acrylic paint topping to mimic powdered sugar, and completed with a twine hanging loop, perfect as a whimsical decoration or a heartwarming gift