Our Favorite Modern Christmas Decor by Interior Style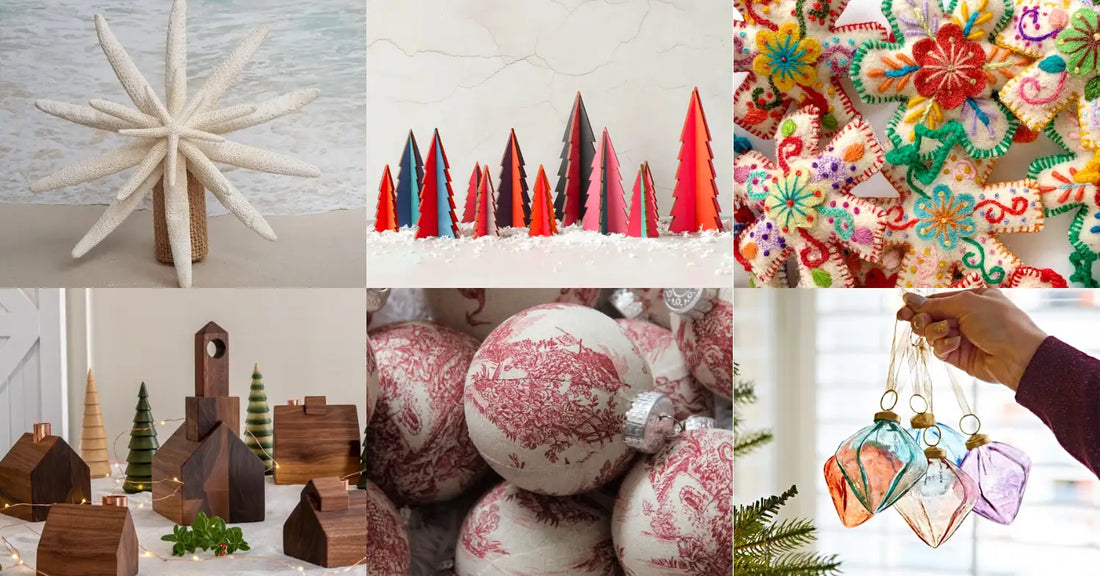 Editor's Note: We independently review everything we recommend. When you buy through our links, we may earn a commission – at no extra cost for you.
As the festive season approaches, embracing the charm of holiday decor tailored to your personal interior style can transform your space into a cozy winter wonderland. Whether you adore the relaxed, earthy vibes of Boho and Farmhouse, the clean and functional aesthetics of Scandinavian and Minimalist/Neutral, or the breezy, serene atmosphere of Coastal and Eclectic styles, there's a modern Christmas decor theme waiting to complement your dwelling. Dive into our curated collection of modern Christmas decor, categorized by unique interior styles, and discover fresh inspirations to deck your halls with stylish festivity this holiday season.
1. Boho Christmas Decorations
Boho decor is all about embracing a laid-back, eclectic aesthetic with a warm and cozy feel. In this style you'll find a blend of rich textures, earthy colors, and a harmonious mix of vintage and contemporary elements that evoke a sense of whimsical festivity. This season, let the bohemian spirit infuse your holiday home with a blend of tradition and modernity, celebrating the free-spirited joy of Christmas.
Eco-friendly and vibrant, these recycled glass baubles are a unique addition to any Christmas tree, bringing a touch of boho charm to your festive decor.
Elevate your festive decor with this elegant rattan tree skirt. Its natural aesthetic and intricate design offer a blend of sophistication and boho charm to your Christmas setting.
Add a unique and funky touch to your festive decorations with this handcrafted ceramic Christmas tree. It's sure to be a conversation starter!
Elevate your festive decorations with this luxurious velvet Christmas stocking, inspired by the timeless designs of William Morris. A perfect blend of tradition and elegance.
Add a touch of artisanal charm to your festive decorations with this set of hand-embroidered wool ornaments. Each piece showcases intricate snowflake designs in vibrant colors.
2. Eclectic Christmas Decorations
Eclectic decor is a celebration of creative freedom, blending diverse styles, textures, and colors into a harmonious and lively holiday tableau. This approach invites a playful mix of the traditional and the unconventional, offering a rich palette for personal expression.
Elevate your festive decor with these handcrafted wood Christmas trees. Their vibrant colors and unique design make them a standout addition to any holiday setting.
These delightful felt peppermint candies are perfect for decking your halls with festive cheer. Handmade with attention to detail, they bring a sweet touch to any Christmas decor.
Add a pop of festive color and comfort to your living space with these unique peppermint pillows. Perfect for adding a touch of Christmas spirit to any room.
A rustic and unique wooden Christmas tree, perfect for adding a natural touch to your festive decorations.
A unique ceramic tree with a lava-style design, illuminated to bring warmth to your holiday decor.
Beautifully hand-knitted Christmas stocking, customizable to add a personal touch to your festive decor.
3. Scandinavian Christmas Decorations
Scandinavian Christmas decor embodies a blend of modern simplicity and rustic charm, encapsulating a cozy yet minimal aesthetic that resonates with the peaceful aura of winter. Embracing a palette of neutral tones, natural materials, and clean lines, this style transforms your space into a serene retreat amidst the festive hustle.
Elegant natural wooden trees, perfect for a Scandinavian-inspired Christmas decor.
Elegant and personalized linen stocking, perfect for a Scandinavian-inspired Christmas decor.
Beautifully crafted wooden ornaments, perfect for a Scandinavian-inspired Christmas tree.
Eco-friendly beeswax candles shaped like pine cones. Perfect for a farmhouse-themed Christmas decor.
4. Coastal Christmas Decorations
Coastal Christmas decor invites a fresh, breezy vibe into your holiday home, encapsulating the serene essence of the shore amidst the festive season's joy. With a palette inspired by the sea, sandy beaches, and clear skies, this style offers a tranquil retreat from the traditional red and green theme.
Elegant starfish tree topper, perfect for a coastal-themed Christmas decor.
Beautifully hand-felted blue betta fish ornament, perfect for tropical and coastal-themed Christmas decor.
Elegant champagne-colored knitted tree skirt to add a touch of warmth and coziness to your Christmas tree setup.
A unique and coastal-inspired holiday tree adorned with blue seashells, perfect for a beach-themed Christmas.
5. Minimalist / Neutral Christmas Decorations
Minimalist or neutral Christmas decor champions the ethos of 'less is more,' creating a calm and harmonious ambiance through a restrained palette and simplistic design elements. This style seeks to evoke the festive spirit with an elegant subtlety, prioritizing function and tranquility amidst the holiday cheer.
A modern and minimalist candlestick holder set, designed as a Christmas village. Perfect for a contemporary holiday decor setup.
Elegant set of 15 handmade velvet ornaments in neutral colors of moss green, brown, and beige. Perfect for a minimalist and sophisticated holiday decor.
Elegant wooden tags to personalize your Christmas stockings. Handcrafted and perfect for a minimalist holiday decor.
A beautifully crafted driftwood tree, perfect for a minimalist and natural holiday decor.
Charming mini cedar wreaths adorned with a delicate ribbon, ideal for a neutral and timeless holiday decor.
6. Farmhouse Christmas Decorations
Farmhouse Christmas decor encapsulates a blend of rustic charm and homely warmth, transporting you to a cozy countryside retreat amidst the winter festivity. With a mix of traditional elements, natural textures, and a comforting earth-toned palette, this style exudes a timeless appeal.
Beautiful red toile Christmas ornaments that add a touch of classic elegance to your festive decor.
Elegant beige Christmas tree skirt that adds a touch of rustic charm to your festive decor.
A charming rustic bells garland that adds a vintage touch to your festive decorations.
A cozy red and white striped stocking crafted from repurposed wool blankets, perfect for a farmhouse-inspired holiday decor.
A rustic wooden candle holder painted in red, perfect to add a warm and cozy ambiance to any farmhouse-inspired holiday decor.