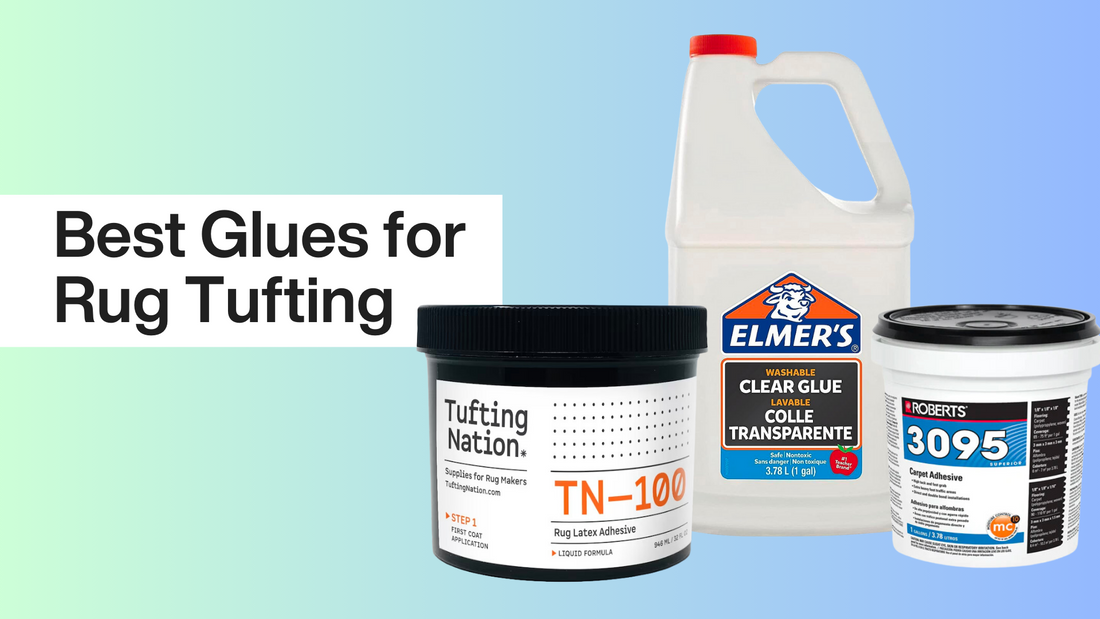 Editor's Note: We independently review everything we recommend. When you buy through our links, we may earn a commission – at no extra cost for you.
To finish off your tufted project you will need to apply a layer of glue to the back of the object. This will help keep the fibers in place and make the product retain its shape instead of curling under.
The type of glue you should use depends on the type of item you are making. If you are making objects like wall art or decorative pieces that won't be stepped on or touched often, regular Elmer's Glue will work fine. You can apply the glue with a simple paint brush. If you are making rugs or other items that will experience high traffic, a carpet adhesive or latex adhesive are highly recommended. These glues are extremely durable and bendable so your rug will not become stiff. Carpet adhesive can be applied with spatulas or joint knife; latex adhesive can be applied with a paint brush, paint roller, or with your hands if you wear disposable gloves.
Best Glues for Tufted Rugs and Other Tufted Floor Items
My favorite tufting glue. This latex is very durable and easy to use, and it does not smell bad.
Latex adhesive is my favorite glue to use for all tufted projects. It is all around the most flexible, lightest, least smelly, and easiest to apply of all the backing adhesives I have tried. It is a great option for rugs or other tufted items that will get a lot of wear and it can be used with or without secondary action-bac. A final backing fabric is required for any items made with latex adhesive.
Pros:
Durable
Flexible
Very little smell and low VOCs
Can be quickly and easily applied with a paint roller
Easy to clean up
Available in large and small quantities
Cons:
Not widely available in stores in the United States
Can get pricey
Durable rug tufting glue. Available in very large quantities. Strong smell.
Roberts 3095 carpet adhesive is a go-to for many tufters because it is very strong and easy to find in hardware stores. This glue dries in a brownish color and retains some tack so it is easy to fold edges and add backing fabric while it is still partially wet. A final backing fabric is required for any items made with Roberts 3095.
Pros:
Very durable
Strong tack makes it easy to apply backing fabric
Easily available at stores in the United States
Available in large and small quantities
Cons:
This glue can get very sticky and messy. If even a little bit gets on my gloves my hand starts sticking to my koint knife
This glue is too thick to use with a paint roller; application with na joint knife can take a while if you have a large piece to cover
Very smelly
Best Glue for Tufted Wall Art
Classic school glue works great for tufted items that will be displayed as wall art.
While you can certainly use latex or carpet adhesive to back wall art, it is not necessary to use glues intended for extreme durability. Since wall art will not be stepped on or touched frequently, regular school glue is a great option. It is available in a variety of sizes, making it much more affordable while providing all the support your art needs. Do keep in mind that this glue tends to dry a bit stiff, so if you are looking for more flexibility with your wall art, then latex is recommended. A final backing fabric is strongly recommended for any items made with Elmer's Glue.
Pros:
Much more affordable and more readily available than other glues
Available in large and small quantities
Easy to apply with a paint brush
Barely any smell
Cons:
The glue dries stiff so if you are trying to make something flexible this is not the glue to use. And because the glue dries stiff it can make very sharp crunchy pieces on the back if you do not trim your excess yarn very close to the foundation fabric.