The Complete List of Tufting Tools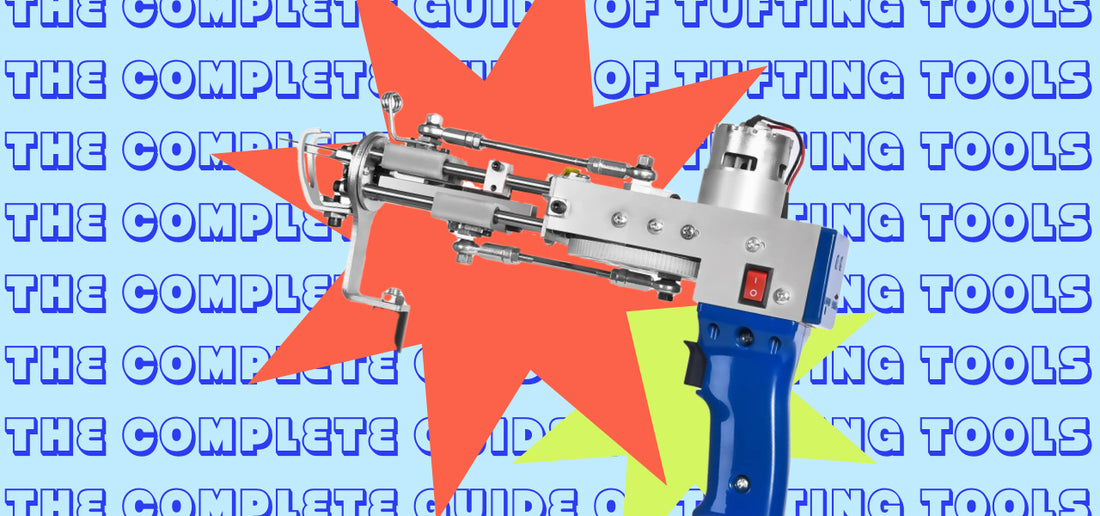 Editor's Note: We independently review everything we recommend. When you buy through our links, we may earn a commission – at no extra cost for you.
Looking to pick up rug tufting but have no idea where to start? I've compiled a comprehensive guide on the tools you'll need to start your rug making journey. I'll explain why you need them, the options you have for each type of tool, and share some bonus tools that are not required but drastically improve the rug tufting quality.
If you prefer a quick shopping list, click here.
The 10 Tools You Absolutely Need for Tufting Rugs
These tools are essential for tufting rugs. You will not be able to finish a rug without all of these items.
1. Tufting Gun
When selecting a tufting gun, there are two main choices you need to make. First, you need to decide if you want a manual, electric, or pneumatic tufting gun. Manual tufting guns are affordable but take more effort, electric tufting guns are fast but costly, and pneumatic tufting guns are for professional, high-volume output. I don't recommend pneumatic tufting guns for most tufters; they're really more for commercial use.
Then, you need to decide if you want a cut pile, loop pile, or 2-in-1 cut and loop pile tufting gun. Cut pile tufting guns create a plush texture, while loop pile tufting guns leave a nubby texture similar to a Berber carpet.
My Favorite Electric Tufting Gun
An all-in-one starter kit for tufting enthusiasts that includes a versatile gun capable of creating both cut pile and loop pile designs. Perfect for DIY rug projects and professional use.
My Favorite Manual Tufting Gun
An essential tool for tufting enthusiasts, the Loop Pile Manual Tufting Gun offers reliable and consistent performance for your crafting needs.
Read our detailed guide on how to choose a tufting gun.
2. Foundation Fabric
There are a few styles of foundation fabric you can use with your tufting gun; they vary in quality, price, and number of weaves. The main options are: primary tufting cloth in gray and white, monk's cloth, and burlap. I personally use gray or white tufting cloth.
Compare Foundation Fabric
3. Tufting Frame
In order to use a tufting gun, you must stretch a foundation fabric tightly across a frame. Then you can use the tufting gun to feed yarn through the backing fabric, creating a pattern.
There's no required shape or size for a tufting frame – this is all based on your individual needs and capabilities. The main components that make up a tufting frame are wood slabs like 2x4s, nails, and carpet tacking strip. Sites like Tuft the World, Tuftin Asia, and Etsy sell tufting frame kits with these materials and they are an easy way to get started.
Compare Tufting Frames
4. Yarn
Selecting the right yarn for tufting involves considering the material, ply, weight, and the project size. Material choices like wool, cotton, or acrylic affect the texture, durability, and cost; with wool being the most sturdy and recommended for tufting. Understanding yarn ply and weight ensures it fits well with the tufting gun for effective looping or cutting. The amount of yarn needed depends on the project size and tufting style, with cut pile requiring more yarn than loop pile. Typically, at least two strands of light or medium yarn are fed into the tufting gun to achieve the desired thickness, and the number of skeins or cones required can be estimated based on the project dimensions.
My Favorite Yarns
5. Threader
For any type of tufting gun, you will need a way to thread the yarn through the gun. You can fashion threaders out of paper clips or wire, or you can purchase convenient threaders.
A handy tool for threading tufting guns, ensuring smooth operation and fewer jams.
6. Scissors
You will need scissors to cut your foundation fabric, cut your yarn, trim excess fiber, and cut your finished rugs off the frame.
My Favorite Scissors
7. Glue
When you are done tufting, you should apply a layer of glue to the back of your finished rug. This will help keep the fibers in place and make the product retain its shape instead of curling under. The type of glue you should use depends on the type of item you are making. If you are making your rug as wall art or decorative pieces that won't be stepped on or touched often, regular Elmer's Glue will work fine. If you are making rugs or other items that will experience high traffic, a carpet adhesive or latex adhesive are highly recommended.
Compare Glue Options
Latex Adhesive
My preferred method. Great, durable, flexible option for rugs. Very little smell.

Roberts 3095
Durable option for rugs backing. Available in very large quantities. Strong smell.

Elmer's Glue
Classic school glue works great for tufted items that will be displayed on walls/as art.
8. Backing Fabric
After your item is tufted and glued, you will want to add a backing fabric to protect the fibers and make it look more professional. Again, the type of backing fabric you should use will depend on what object you make. For wall hangings you can use inexpensive items like felt sheets. For rugs, it is highly recommended to use final backing cloth, or non slip rug pad.
Compare Backing Fabrics
Thin Non-Slip Rug Backing
My preferred cloth. This rug backing has the luxury of being thin and easy to apply and is nonslip non-slip grippers. Can be applied with spray adhesive or whip stitch/serge binding.

Final Backing Cloth
Thing, soft, durable backing fabric. Does not provide any non-slip functionalities. Can be applied via spray adhesive or can be bound with a whip stitch or serge binging.

Dual Surface Rug Pad
If you're looking for the thickest pad possible to add extra height and comfort to your rug, this is the backing for you. Extremely non-slip. Can be applied via spray adhesive or professional binding.

Felt Fabric
I recommend using felt only on objects that will be hung on the wall or in other ways used as art. It does not provide any non slip features or have proper durability for rugs, but it is a great, inexpensive option for wall art.
9. Spray Adhesive and/or Hot Glue
When you cut your rug off the frame there will be edges of the foundation fabric left around it. To finish the edges, you can fold them over toward the back of your rug and hot glue them down. You could also choose to bind the edges, for which you would need a binding needle. You will then need to glue your backing fabric to the back of your rug. You can use hot glue, but we recommend spray adhesive to prevent lumps.
My Go-To Spray Adhesive & Hot Glue
*My number one choice for spray adhesive is Roberts 007, but it has not been available for the last 6 months
10. Sharpies
You will want to draw or trace your rug design onto your stretched foundation fabric. This will make your tufting process much easier.
Important: You must remember to flip your design! When tufting you are always tufting into the back side of the rug. The front of the rug is created on the other side of the fabric with the needle you are pushing through. You need to be looking at the inverse of your design to get your desired design on the front.
You can draw your design freehand on the frame, trace objects, or use a projector to easily display and trace the design you want to make. I recommend sharpies for transitioning your design on to the frame - they don't smudge and work well over the weaves of the fabric.
A must-have for every artist, these classic markers are perfect for creating bold and vibrant designs on your tufting projects.
Extra Tools That Will Improve Your Tufting
These tools improve the quality of your finished rug and allow you to work more efficiently. They are not required to get started with tufting, but are highly recommended for anyone tufting professionally.
1. Shears
When using a cut pile machine, the threads on the front may vary slightly in height and your design may not be as crisp as expected. To even out these fibers and carve out your design, you can use shears, clippers, or rug trimmers. Not all shears work on all materials. See my guide below. Do not use shears on loop pile items unless you want to break the loops.
Compare Rug Tufting Shears
Pet Hair Clippers
Basic pet hair clippers are by far the most affordable types of shears that work well on rugs. They are suitable for acrylic and wool, but they do not work well with cotton.

TN-40E Rug Carver
The TN-40E Rug Carver has an input power of 250 Watts which makes it one of the most powerful tools in its class. Works very well with wool and acrylic; not cotton.

Sheep Shears
The strongest of options, 500 Watts sheep shears work well on all materials, including cotton. They give plenty of power for trimming large areas. Not for detailing.
2. Yarn Cones
Smoothly feeding your yarn to your tufting gun is one of the most important aspects of tufting. If you are using regular skeins or balls of yarn, you will have to constantly create slack with the yarn so that the tufting gun has something to pull, and your ball or skein will flop all over the floor. If your yarn system isn't good, you may have to constantly untangle threads and rethread your machine which can become increasingly frustrating and significantly extend how much time you spend making a piece. Buying yarn already wound on cones or winding your skeins/balls onto empty cones can drastically improve your workflow.
Perfect for yarn storage and organization, these reusable cones are a must-have for every tufting enthusiast.
3. Yarn Winder
While you can certainly wind your yarn around the cone by hand, a yarn winder is sure to speed up the process. There are both manual and electric yarn winders on the market. Or you can try my trusty yarn winding hack that uses some basic household items ;)
My Favorite Yarn Winders
4. Yarn Cone or Yarn Ball Holder
Now that you've got your yarn cones and yarn winder, you may want to consider further improving your experience with a yarn cone holder. These stands, especially ones with thread guides, allow you to keep a constant feed of yarn into your tufting gun. This is because the cones rotate around a dowel and cannot tip over like they can if not using any sort of stand. The best stands have a heavy base so it can not tip over and have vertical spindles about as tall as your yarn cones so the yarn cone cannot fall over it.
If you are choosing to use yarn skeins or balls, you can consider a feeding bowl or wool jeanie to keep the yarn from flopping around on the floor.
My Favorite Yarn Stands
| | |
| --- | --- |
| | 4 Spool Maple Yarn Cone Holder |
| | |
5. Projector
A projector will help you easily transfer your designs from your phone/iPad/computer to your frame.
Experience high-quality visuals and sound with this portable Bluetooth projector. Great for tufting projects and more.
There are cheaper projectors available, but I have tried a few that have broken after only a couple of uses and thus ended up being more expensive in the end.
6. Twill Tape
To elevate the finishing details on your rug consider adding twill tape around the border to block and protect the raw edges that can form from gluing down your fabric and using backing cloth. Twill tape is available in various widths and colors.
Versatile and durable cotton twill tape, perfect for crafting, binding, and more.
7. Rug Carving Scissors
Electric rug carving scissors will speed up your shaping and take your detailing to the next level with 3D sculpting and defined lines. They have one curved blade so you can cut fibers close to the fabric without cutting the fabric. The variable speed allows you to have full control and make precise and smooth cuts.
High-quality electric scissors designed for precision carving of rugs and textiles.
Final Thoughts
Embarking on a tufting project requires a blend of creativity, patience, and the right arsenal of tools.There are a lot of tools required and tufting can be a very expensive hobby. Before you give rug tufting a try, you'll need to consider if you are willing to invest in all of the tools you'll need to make even one complete rug. From the indispensable tufting gun, which lays the foundation of your tufting process, to the ancillary yet beneficial accessories like yarn stands and projectors, each tool has a unique role in helping you make the best rug you can.
If you are ready to start tufting, I hope this guide can serve as a reliable companion in your journey. Happy tufting!