What Kind of Yarn Should I Tuft With? Best Yarn for Tufting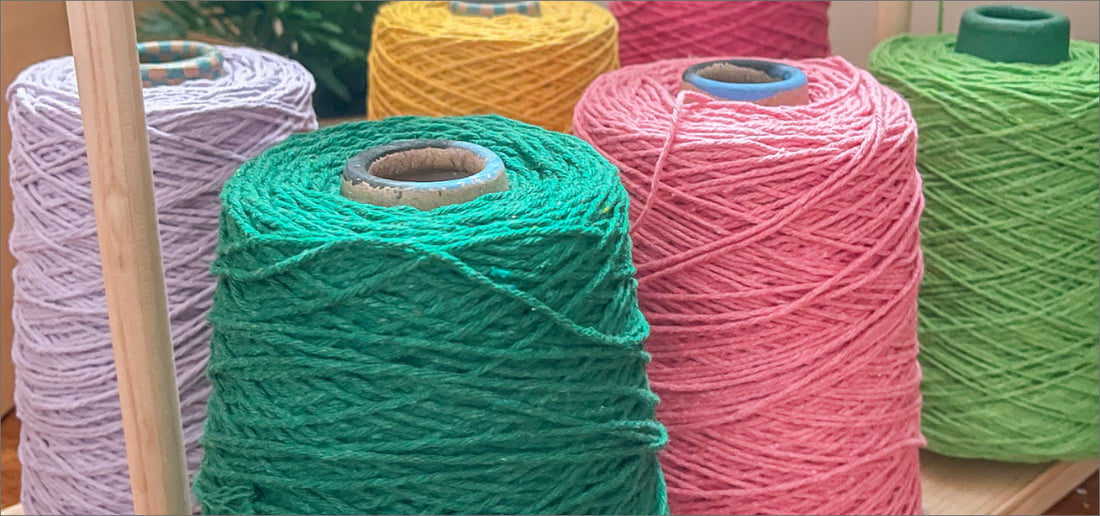 Editor's Note: We independently review everything we recommend. When you buy through our links, we may earn a commission – at no extra cost for you.
Any type of yarn can technically be used to create tufted objects, but for best results with a tufting gun, I recommend wool, cotton, or acrylic yarn. The type of yarn you use will impact the texture and durability of your object, as well as how smoothly your tufting process will go.
How to Choose Yarn for Tufting
Before buying yarn you should consider what yarn material and what yarn ply and weight will be best for your project.
Yarn Material
Acrylic Yarn
Acrylic yarn is the least expensive option. It comes in many colors and weights, is easy to trim and shear, and is widely available in stores. While it may be suitable for some projects, keep in mind that acrylic yarn is the least expensive for a reason and it will not product very high quality items. Acrylic yarn is synthetic and is not biodegradable.
Cotton Yarn
Cotton is a natural yarn that is very soft and durable. It is also easy to find in stores and is available in many colors. Small skeins of cotton are available at cheap prices, but cotton can quickly get costly when you need a large quantity. I do not recommend cotton for projects that will involve a lot of carving/detailing as it is not easy to shear. There are also eco-cottons and recycled cottons that repurpose textile waste. I often work with Tuft the World's Reflect Eco-Cotton.
Wool Yarn
Wool yarn is the sturdiest, most durable, and most expensive option to use with a tufting gun. Wool can withstand quite significant wear and because of this, wool is the most commonly sought after material for rugs. Wool is reliable, easy to tuft with, and easy to carve and shear. I recommend wool as the best material to work with when tufting.
Yarn Ply and Weight
Yarn ply refers to the number of single threads twisted together to compose the yarn. Yarn weight refers to the actual thickness of the yarn. Most yarn brands follow a standard yarn weight system. Yarn for tufting needs to be thick enough so it doesn't slide out of the tufting gun, but thin enough so the tufting gun needle can cut or loop it properly. The exact thickness will vary slightly by brand and type of materials. In general I recommend 2 or 3 strands of DK/light worsted or aran/worsted yarns for tufting guns.
How much yarn do I need?
The amount of yarn you need for tufting will depend on the size of your project, how high the cut pile is or long the loops are, and how tightly you make your lines when tufting. Cut pile guns almost always require more yarn than loop pile guns.
In most cases, you will need to feed at least two strands of light or medium yarn into your tufting gun to reach the desired thickness for the tufting gun to work. A single strand of yarn is typically too thin for the tufting gun and will keep sliding out of the needle. The exact number of strands that will work best for your project will depend on the specific qualities of your yarn. I always start with 2 strands of yarn and if I see the results are thinner than I wanted, I will add another.
Ok so you will need to use at least two strands at a time, now how many skeins or cones will you need? One 7 oz skein of medium weight yarn split in half to use as two strands will be enough for one square foot of tufting with a cut pile machine. You can use this as a starting point to calculate how much you will need. For example, if you are tufting with two 14-16 ounce yarn cones fed to your tufting gun, you can tuft four square feet before running out of yarn.
Best Yarn for Tufting